Getting Better Healthcare
Healthcare is a shared responsibility. Governments, healthcare organizations, and individual healthcare consumers share the job of making sure that the care that each of us receives is the best it can possibly be.
JointHealth™ works to help people with arthritis take control of their disease and take action in healthcare decision-making. This means that each individual person with arthritis has a critically important role to play in their own treatment—from recognizing the symptoms of arthritis to building a treatment plan and working with your team of healthcare professionals.
The bottom line is this: there are things you can do to get better healthcare. In this section, we explore the arthritis journey, from first symptoms onward, and point out ways that people who are living with arthritis can get the most out of their care.
Click here
for an infographic of the key elements in an inflammatory arthritis model of care and easy access to credible patient information resources.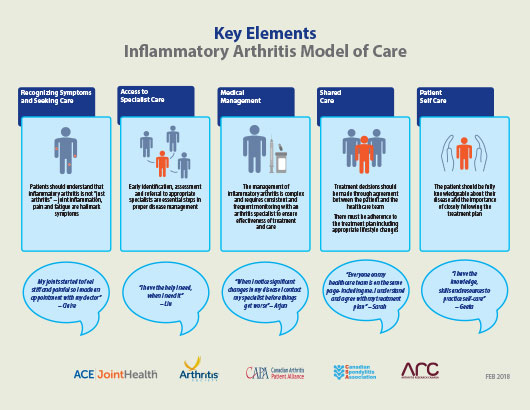 Worried about osteoarthritis? The Osteoarthritis (OA) Tool can help!
The College of Family Physicians of Canada (CFPC), the Arthritis Alliance of Canada (AAC), and the Centre for Effective Practice (CEP) have joined forces to develop the
Osteoarthritis (OA) Tool
to help family physicians and other health care providers understand that osteoarthritis is a common, treatable, chronic illness by providing a tool that helps providers:
Identify, assess, and monitor OA
Equip patients for high quality self-management
Recommend specific non-pharmacologic and pharmacologic therapies
The patient version of The Osteoarthritis (OA) Tool is in development. We will provide the tool once it becomes available.