JointHealth™ express
October 27, 2017
---
Ms. Louise Bergeron posthumously awarded the 2017 Qualman-Davies Arthritis Consumer Communitly Leadership Award.
Cheryl Koehn presented the Qualman-Davies Arthritis Community Leadership Award at the Arthritis Alliance of Canada Annual Meeting, held in Vancouver on Thursday and Friday, October 26 and 27, 2017.
Ms. Louise Bergeron is the recipient of the 2017 Qualman-Davies Arthritis Consumer Community Leadership Award. It is with a great sadness that the award was presented posthumusly. Louise's son accepted the award at the Arthritis Alliance of Canada Annual Meeting.
Louise was diagnosed with lupus in her late 30's and began volunteering in various arthritis-related patient groups.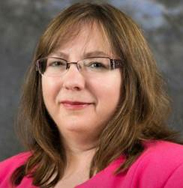 Louise also offered volunteer service to various research networks in under-served groups, including representing the perspective of people living with systemic autoimmune rheumatic diseases, which included involvement in the Canadian Network for Improved Outcomes in Systemic Lupus Erythematosus (CaNIOS) and Lupus Canada. In her work with Dr. Paul Fortin, she co-developed "MyLupusGuide", a web platform dedicated to informing persons with lupus and promoting their self-care. Louise was highly involved as a consumer with CIHR as a peer reviewer and participated in numerous research projects either as a collaborator or as a subject matter expert. She also contributed in the writing and publishing of many reports on consumer involvement in arthritis research.
Louise was a valued mentor to patients helping them become advocates for themselves and to the broader Canadian arthritis community. In 2013, Louise was awarded a Queen's Diamond Jubilee Medal for her outstanding volunteer work on behalf of the arthritis community.