JointHealth™ express
December 22, 2021
---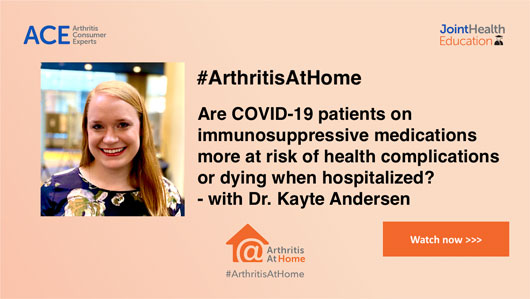 Epidemiologist are often called "disease detectives" who search for the cause of disease, identify people who are at risk and recommend how to control or stop the spread or prevent it from happening.
In this episode of Arthritis at Home, epidemiologist Dr. Kayte Andersen discusses a study she led that found people who were taking immunosuppressive medications when admitted to the hospital with COVID-19 fared no worse than anyone else who was hospitalized with COVID-19. Dr. Andersen also explains that these patients were not any more likely to be put on a ventilator or to die in the hospital. The study also found they did not need to stay in the hospital for longer. Overall, the study appears to be largely good news for people who take any medications that impact the immune system and suggests that there is no need to discontinue these medications to reduce the possible risks of severe COVID-19.
Dr. Andersen recently earned her PhD in Epidemiology, with a certificate in Pharmacoepidemiology & Drug Safety, from the Johns Hopkins Bloomberg School of Public Health. She holds a Bachelors Degree in Pharmacology, and a Masters Degree in Pharmacoepidemiology, both from McGill University in Montreal, Canada. Kayte had initially planned to study PCSK9 inhibitors for her doctoral work, but recently made a pivot and instead is working to understand the safety and effectiveness of medications for adults hospitalized with COVID.
Check out these resources to learn more