JointHealth™ express
December 1, 2021
---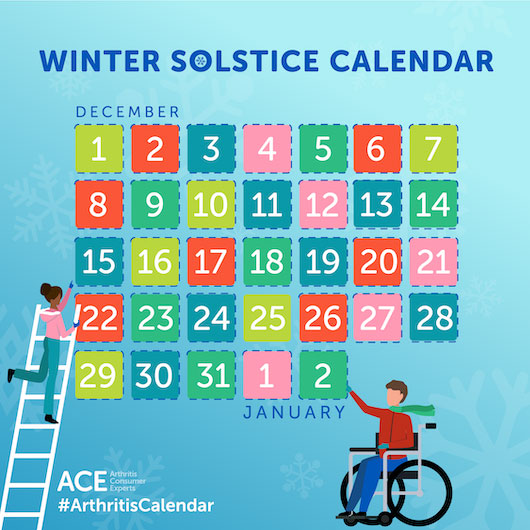 Celebrate the holiday season with ACE's #ArthritisCalendar campaign
Knowledge is the gift that keeps on giving; we encourage you to share your knowledge and experiences by participating in the #ArthritisCalendar campaign!
From December 1
st
, 2021 – January 2
nd
, 2022, ACE will be posting daily on our Facebook, Twitter, and Instagram pages. If you would like to participate but do not have social media accounts, please submit your comments to
feedback@jointhealth.org
.
Throughout the holiday campaign, we will be sharing education resources, fun activities, holiday recipes, exercise snacks and meaningful games and challenges. And we're also asking you to share holiday tips on how you balance activity with rest, manage your emotions, eat a balanced diet, improve sleep, protect your joints in the cold weather and get moving from the comfort of your own home.
We encourage everyone to participate, share with friends and family and spread the cheer.
Like, and comment on #ArthritisCalendar
Forward this email to someone in your community who has arthritis
Our first event is
Come alive!
A holiday themed sharing board for you to post photos, videos, festive tips, or comments of things you are looking forward to this holiday season and read what others have shared! You have the option to remain anonymous. Follow this link to start sharing:
https://bit.ly/3rnfjHc
. The board will be active until January 2
nd
, 2022. Please be respectful of your community and keep your messages and visuals family friendly.