JointHealth™ express
September 15, 2021
---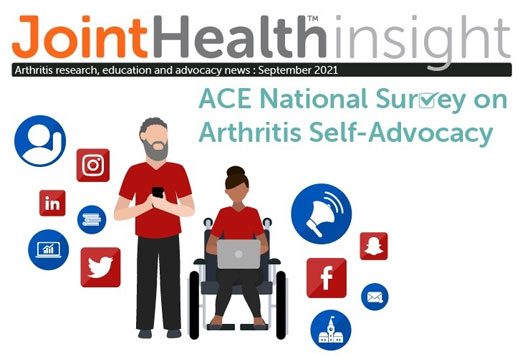 As people living with arthritis know, you are – and often must be – your own best advocate. No one knows arthritis better than those who live with it every day. Self-advocacy can help give you some stability, a feeling of regaining control and the strategies and tools to live your best life. Self-advocacy is a way of reaching out to others and explaining your arthritis experience to your family, friends, co-workers, employers, and even strangers and learning how to ask for support and help. Ultimately, self-advocacy requires participation in the decision-making process, particularly as it relates to the healthcare you receive.
During Arthritis Awareness Month in Canada, ACE is launching the results of a National Survey Report on Arthritis Self-Advocacy where we asked Canadians about their understanding of their disease, where they go to learn about treatment and care, and how they go about self-advocating for what they need. Survey results also identify inequities and gaps in arthritis self-advocacy – who is experiencing them and what some of the challenges are in advocating for the best arthritis care possible.
This issue of
JointHealth insight™
summarizes the Survey findings and includes:
Survey respondent characteristics
What Survey respondents know about their arthritis diagnosis
The link between emotional support and mental health
Self-advocacy in work environment
Communicating with health care teams
Self-advocating in your community
Read and share the
Survey findings
and
infographic
and learn more about respondents' experiences with arthritis self-advocacy at work, in their social life, during medical appointments, and with social media.