JointHealth™ express
August 12, 2021
---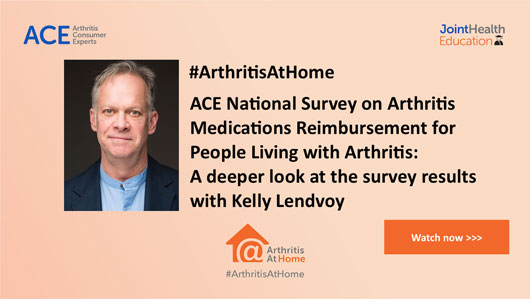 Although many Canadians have access to public or private drug insurance, the patchwork of drug plans in Canada creates inequities in access to medicines and exposes households and businesses to considerable financial burden.
In this episode of Arthritis At Home, Kelly Lendvoy, VP of Communications and Public Affairs at Arthritis Consumer Experts, takes a deeper look at the survey results from the ACE National Survey on Arthritis Medications Reimbursement for People Living with Arthritis. He highlights some of the survey's most important findings, including:
specific challenges patients face accessing reimbursement for arthritis medication
the experience of black, Indigenous and people of colour
the impact poor reimbursement coverage for arthritis medications has on patients
How can you get involved?
Take action in support of expanding access to arthritis medications and contact your elected officials:

Arthritis Consumer Experts Advocacy Resource
https://advocacy.jointhealth.org/
Check out these helpful resources to learn more: