JointHealth™ express
December 17, 2020
---
JointHealth™ insight – December 2020
2020 wrapped: ACE wishes you a safe, healthy holiday season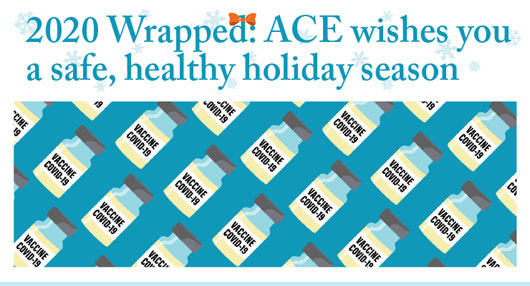 In the latest issue of
JointHealth™ insight
, Arthritis Consumer Experts (ACE) takes a closer look at the year end approval and distribution of the COVID-19 vaccines and provides tips for a fun, safe and healthy holiday season during the pandemic.
COVID-19 vaccination and inflammatory arthritis patients
A question top-of-mind for inflammatory arthritis patients during the holiday season is whether the COVID-19 vaccine's effectiveness could be impacted by immunosuppressant medications, such as disease-modifying antirheumatic drugs (DMARDs) and biologics. In the
December JointHealth™ insight
, ACE explains how large Phase 3 clinical trials for COVID-19 vaccines (the last clinical trial phase before regulators, like Health Canada, decide to authorize a vaccine based on its quality, safety and effectiveness) are looking at relatively healthy adults without medical conditions or medications that could affect the results. Patients living with active autoimmune disease (and people under the age of 16, or pregnant women) were not included.
As of December 2020, the Public Health Agency of Canada's external advisory body, the National Advisory Committee on Immunization, recommends that the COVID-19 vaccine "should not be offered to patients who are immunosuppressed due to disease or treatment or those with an autoimmune disorder until further evidence is available".
Based on the absence of safety or efficacy data in patients living with active autoimmune disease, such as inflammatory arthritis, some Canadian provinces and territories are not currently planning to administer the vaccine to people who are immunocompromised.
It is important to note that these recommendations may change as more information becomes available and as other vaccines get approved. ACE is monitoring this issue closely and will continue to provide you updates as the federal government regulations and the provinces and territories' policies continue to evolve on who should receive the COVID-19 vaccine.