JointHealth™ express
November 25, 2020
---
Survey: What is your school experience like during the COVID-19 pandemic?
Please complete this 5-minute survey by November 30, 2020.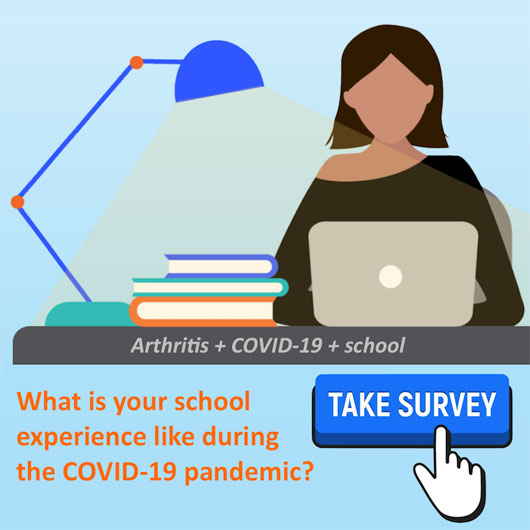 Arthritis Consumer Experts (ACE) wants to understand your experiences as a student or as a parent of a student attending school during the COVID-19 pandemic. Your participation in this survey will help improve advocacy efforts and support for people living with autoimmune arthritis and their households. Please complete the survey by November 30, 2020.
We will share our findings to increase awareness for the concerns and challenges that the patient community is facing while navigating the school year and making decisions that impact quality of life, health, education, and safety.
We are looking to hear from:
students with autoimmune arthritis (e.g. rheumatoid arthritis, psoriatic arthritis, ankylosing spondylitis, juvenile idiopathic arthritis) who are returning to school
students returning to school who live with someone who has autoimmune arthritis
parents/caregivers of a student with autoimmune arthritis who is returning to school
parents/caregivers with autoimmune arthritis who live with a student returning to school
If you are in one of these groups, please consider participating in our
short survey
, and share it with people in your network. Your answers will be anonymous.
Be well, and be safe,
Cheryl Koehn
Founder and President, Arthritis Consumer Experts
Person living with rheumatoid arthritis