JointHealth™ express
September 10, 2020
---
Arthritis At Home Episode 43 – Elections during the COVID-19 crisis
This week's #ArthritisAtHome features Kelly Lendvoy, Vice President at Arthritis Consumer Experts.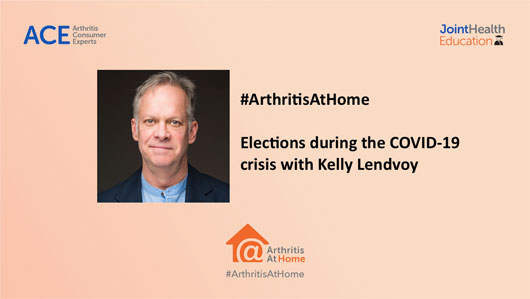 New Brunswick on September 14
th
and Saskatchewan on October 2
6th
are the first two jurisdictions in Canada to hold elections during the throes of the COVID-19 crisis. On this special episode of Arthritis At Home, ACE's President, Cheryl Koehn, interviews ACE's VP Communications & Public Affairs, Kelly Lendvoy, to gain insights into the unprecedented logistical and public health challenges the pandemic presents to campaigns and elections. "There's no playbook for planning an election during a pandemic," explains Lendvoy.
The two ACE leaders also look at how health care is debated during election campaigns and the importance of arthritis patients ensuring their voices and issues are heard and discussed.
For further information on upcoming provincial elections in Canada, please visit:
Arthritis Consumer Experts
Provincial Elections