JointHealth™ express
August 20, 2020
---
Arthritis At Home Episode 40 - Best Practices: Post Total Joint Replacement Rehabilitation in Canada (Part 2)
This week's #ArthritisAtHome features Cheryl Koehn, rheumatoid arthritis patient who underwent a knee replacement surgery, and Dr. Marie Westby, Physical Therapist at Mary Pack Arthritis Program, on total joint replacement surgery.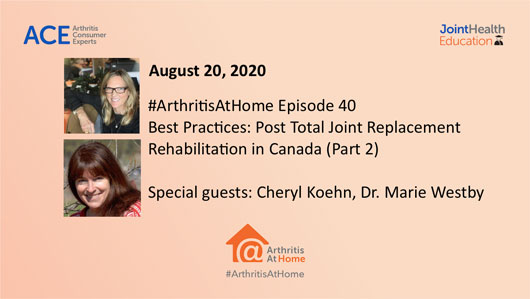 In the second half of this special two-part episode of Arthritis At Home, we speak to Dr. Marie Westby and Cheryl Koehn, President, Arthritis Consumer Experts. Dr. Westby is a Physical Therapist at Mary Pack Arthritis Program and Clinical Associate Professor at the Department of Physical Therapy at the University of British Columbia and an Associate Member of the Centre for Hip Health and Mobility.
In Part 2, Dr. Westby describes the state-of-the-art of post total joint replacement (TJR) rehabilitation across Canada. She looks at the varying standards of rehab being delivered by provincial health systems, including Health Quality Ontario's Quality Standards on Osteoarthritis. During this discussion, Dr. Westby also speaks about a focus of her research on TJR rehab: "quality indicators." We also learn more about "QUICK-TJR and EQUIP-TJR" – one of her current research projects that is looking at patients and healthcare professionals' resource preferences and priorities for information toolkits for implementing quality indicators into routine clinical practice.
Helpful links:
Health Quality Ontario's Quality Standards on Osteoarthritis
- (page 6 has information on joint replacement surgery)
Canadian provinces are responsible for the delivery of hip and knee replacement surgery. Many provincial and regional health authorities as well as hospitals and health centres provide patient information guides for total joint replacement:
British Columbia
OASIS (OsteoArthritis Service Integration System)
Before, During and After Hip and Knee Replacement Surgery
– A Patient's Guide
Alberta
Alberta Hip and Knee Clinic
Hip Replacement Guide
Knee Replacement Guide
Saskatchewan
Saskatchewan Health Authority
Total Hip Replacement
Total Knee Replacement
Manitoba
Winnipeg Regional Health Authority – Hip & Knee Resource Centre
Nova Scotia
Nova Scotia Health Authority
Hip and Knee Action Plan
Patient & Family Guide: Hip Replacement Surgery
Ontario – (each region or hospital provides their own guides)
Sunnybrook Health Sciences Centre
A Guide for Patients Having Hip or Knee Replacement
Rehabilitative Care Alliance
Rehabilitative Care Best Practices for Patients with Primary Hip & Knee Replacement
Quebec
McGill University Health Centre
Hip Surgery Guides
Knee Surgery Guides