JointHealth™ express
December 17, 2019
---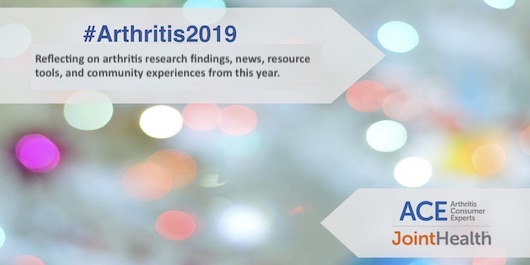 Celebrating arthritis news, research and innovations: The #Arthritis2019 list
Tis the season to share your 2019 arthritis highlights – personal accomplishments, news, research and innovations that affect you!
Arthritis Consumer Experts (ACE) will be wrapping up the year by curating a #Arthritis2019 list for you. From December 17, 2019 to January 5, 2020, ACE will post daily on our Facebook and Twitter channels, news highlighting arthritis news stories, research findings, resource tools, or updated clinical recommendations and guidelines from the last year. The #Arthritis2019 list will help people living with arthritis, their families, health care providers, and researchers have meaningful conversations with each other.
We invite you to participate in the #Arthritis2019 campaign by sharing your own arthritis highlights from 2019
, including new things you have learnt about arthritis, initiatives you have been involved in, personal disease experiences and accomplishments, or arthritis-related news that have impacted you:
Send us an email to share your arthritis highlights
Share your arthritis highlights on our Facebook or Twitter pages and include the hashtag #Arthritis2019
Share, like, and comment on #Arthritis2019 posts
We will provide a #Arthritis2019 list summary in January and use it as ACE's guiding light for our advocacy, research and information programming in 2020 as ACE celebrates its 20th year anniversary.
Let the sharing begin!