JointHealth™ express
September 12, 2019
---
Arthritis Alliance of Canada launches tool to improve care for millions of Canadians living with osteoarthritis
#JointPainTalk program aims to improve patient self-care, self-advocacy and health literacy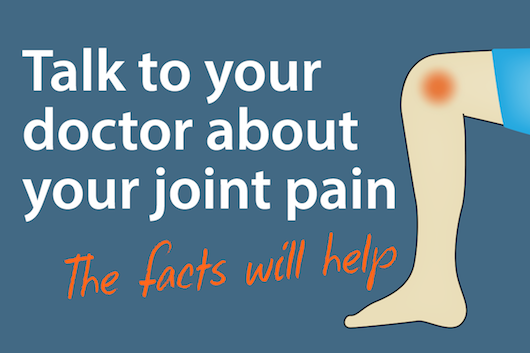 The
Arthritis Alliance of Canada (AAC)
today launched the
Talk to Your Doctor About Joint Pain Handout
("#JointPainTalk").
Through broad distribution across Canada, #JointPainTalk aims to improve the quality of life for people with arthritis, including their physical activity, sleep, mental health (like mood or depression), relationships and work life, specifically by:
Assisting those with or at risk of osteoarthritis ("OA"), in having better conversations with their doctors or other health care professionals, by informing them about the care they can expect to receive. Good communication between patients and doctors is very important in reaching an accurate diagnosis and building effective treatment plans.
Helping patients identify the causes of their joint pain and loss of mobility.
Informing them of the basics of primary prevention strategies and self-care methods.
Improving patients' quality of life through the successful implementation and adoption of this Handout.
The
Talk to Your Doctor About Joint Pain Handout
is a patient version of the
Osteoarthritis Tool for Family Physicians
that was launched by the AAC and the College of Family Physicians of Canada in 2017 to provide primary care providers who are managing patients with new or recurrent joint pain from osteoarthritis in the hip, knee or hand, with a standardized guideline to assist with assessing and triaging patients with OA symptoms.
#JointPainTalk has been developed through a collaborative process involving representatives from patient-led and patient-focused organizations, in close consultation with members of the AAC Models of Care Committee and scientific and clinical experts in OA, with the goal of enhancing education and raising awareness in osteoarthritis care and prevention.
As one of the patient collaborators on #JointPainTalk, Ms. Louise Crane, OA Patient Representative, and Aboriginal Patient Representative commented: "Good communication between patients and doctors is very important in reaching an accurate diagnosis and building effective treatment plans. #JointPainTalk will help people with OA or at risk of getting it have better conversations with their family doctors or other health care providers. Knowing what to expect during your physical examination and what questions to ask is key."
"The Handout arrives at a critical time for Canadians living with osteoarthritis. The highest rates of OA are increasing fastest among young people (20-59 years), due largely to childhood obesity and knee injury. While effective therapies exist, the high prevalence of comorbidity in people with OA makes management challenging (as many of 90% of people with OA have at least one additional chronic condition – most often diabetes, heart disease and high blood pressure)," says Dr. Gillian Hawker, Sir John and Lady Eaton Professor and Chair of Medicine, Faculty of Medicine, University of Toronto.
A report by the AAC estimated that by 2010 there were already more than 4.4 million Canadians living with OA and that by 2040 (within a generation), more than 10 million (or one in four) Canadians are expected to have OA. A recent study found the rising rates of OA would cost the Canadian economy an estimated $17.5 billion a year in lost productivity by 2031 as the disease forces greater numbers of people to stop working or work less.
ABOUT THE ARTHRITIS ALLIANCE OF CANADA
The Arthritis Alliance of Canada is a coalition of over 30 organizations representing patient groups, arthritis consumer organizations, professional organizations, not?for?profits, government, industry and researchers. The Alliance's goal is to improve the lives of Canadians with arthritis. While each member organization continues its own work, the Alliance provides a central focus for national arthritis?related initiatives. For more information, visit
www.arthritisalliance.ca
.
For further information or to arrange an interview, please contact:
Kelly Lendvoy Vice President, Communications and Public Affairs
Arthritis Consumer Experts
Mobile: 604.379.9898
Email:
lendvoy@jointhealth.org
---
1
"Productivity costs of work loss associated with osteoarthritis in Canada from 2010 to 2013,"
Osteoarthritis and Cartilage
, February 2017, Volume 25 (Issue 2), 249-258