JointHealth™ express
July 24, 2019
---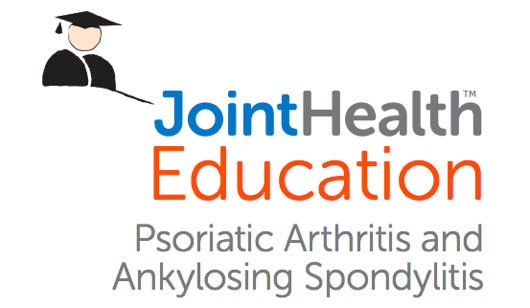 In this latest issue of
JointHealth™ insight
, we introduce two new JointHealth™ Education courses: Psoriatic Arthritis and Ankylosing Spondylitis. We take an in-depth look at the courses and then share new research findings in both disease areas.
JointHealth™ Education was inspired by many of ACE's members living with an inflammatory arthritis who have told us they lack the knowledge and communications skills to have full, satisfying conversations with their rheumatologists.
The program provides current, evidence-informed lessons, quizzes and coaching videos through a secure, on-line classroom where they can learn from the comfort of their own home or over the work day lunch hour. The program helps prepare patients to appropriately frame their health concerns and questions with their health care provider. Upon successful completion of a course the patient "Graduate" receives a certificate indicating they have the knowledge and communication tips needed to successfully prepare for their medical visit, talk to their healthcare provider about setting treatment goals and making an overall plan, discuss specific treatments to manage and monitor their type of arthritis.
Topics covered in this new JointHealth™ insight issue include:
Background information on JointHealth™ Education, including a rheumatologists perspective on the program
What you'll learn in the Psoriatic Arthritis and Ankylosing Spondylitis courses, including a lesson by lesson overview
The latest research on psychosocial experiences and unmet treatment expectations of patients with psoriatic arthritis and psoriasis
The latest research on exercise recommendations in ankylosing spondylitis
Sign up now to take the courses:
http://bitly.com/ACE-JHEd
.