JointHealth™ express
April 18, 2019
---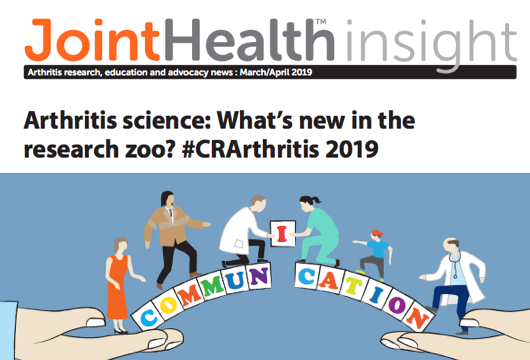 In Arthritis Consumer Experts' (ACE) latest issue of
JointHealth™ insight
, we explore what "building bridges" – the theme to this year's Canadian Rheumatology Association and Arthritis Health Professions Association Annual Scientific Meeting – means to arthritis patients and health care providers. To help you, we have prepared a curated guide to a selection of #CRArthritis interviews, outlining key points covered during the event.
Among the topics of interest to patients, the interviews provide information on:
Building bridges between patients, healthcare providers, researchers, and allied health professionals
Osteoarthritis
Kids and arthritis
Working with arthritis
Targeted specific research
Medications
Mental health and arthritis
Hot topics from arthritis patient organizations
Models of arthritis care
All interviews can be accessed through YouTube, Twitter, and Facebook.


To turn on French subtitles, please adjust the YouTube settings for each interview.