JointHealth™ express
October 10, 2018
---
Share your impact statement for World Arthritis Day: How has arthritis changed your world? #MyWorldWithArthritis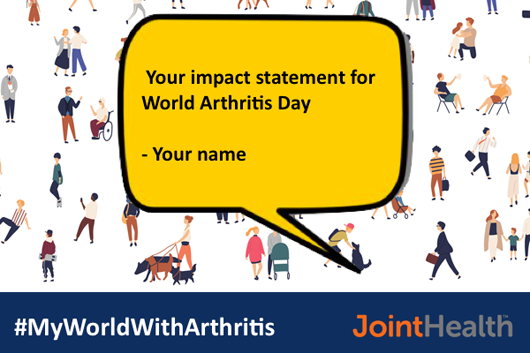 World Arthritis Day is October 12. Share
your
experience living with arthritis to let others know they're not alone in their battle against arthritis.
Arthritis affects an estimated 6 million people in Canada, and 54 million in the United States; it can significantly impact daily activities, work, relationships, school and the way people see themselves. With over 100 types of arthritis affecting people of all ages, the patient community is incredibly diverse and so are their experiences.
#MyWorldWithArthritis
will bring attention to the prevalence of the disease and the different ways that it can impact the lives of individuals. Throughout the day on October 12, we will be sharing quotes from patients and their friends and family members on our social media platforms. Here are some examples:
"Getting diagnosed with arthritis turned my world upside down. It's pretty challenging living with RA and being an university student, but I have an amazing community of people helping me through the tough stuff." – Maya, 20 years old, #MyWorldWithArthritis
"My sister got diagnosed with spondylitis 2 years ago. I have watched as she has had to give up some of her favourite activities; she is dealing with a lot but her strength always amazes me"- ACE subscriber, #MyWorldWithArthritis
To participate in the #MyWorldWithArthritis campaign, send us your impact statement here:
How has arthritis changed your world?
Tell us if you would like your name (or Twitter handle) and age attached to your quote, or if you would like to remain anonymous.
You can also participate by sharing your experience on your own
Facebook
and
Twitter
page by using the hashtag #MyWorldWithArthritis. Follow our Facebook and Twitter page on World Arthritis Day to understand how arthritis impacts the world.